The NAF1000 product group contains cross-connection cabinets, splice cabinets and preinstalled modules.
Cross-connection cabinets
There are two sizes of the cross-connection cabinets, 600x300x2000mm and 600x300x2200mm (WxDxH). The cabinets are available with all walls and doors attached or without some of the walls. The installment of a lock is also possible.
The identification codes for different versions:
Splice cabinets
The versions of the splice cabinets are as follows: stand-alone cabinets and wall-mounted cabinets. The cabinets include fixed stands for splice trays, except in the 400mm wide cabinet where the frame for stands can be turned. The cabinets are extremely easy to use.
The stand-alone cabinet can be found in three different sizes, 600x300x2000mm, 600x300x2200mm and 400x300x2000mm (WxDxH).
The identification codes for splice cabinets and accessories can be found in the next table. The splice capacity of each cabinet is marked in the product name. ​
Preinstalled modules
NAF1000 modules are available for cross-connection cabinets. Modules can hold 24 or 48 SC connectors, both SC-UPC and SC-APC are available. Modules are available with LC (UPC and APC) connectors as well, doubling the capacity.
The module is equipped with ready assembled cable, in which connectors are preinstalled to the module and the other end is free for splicing.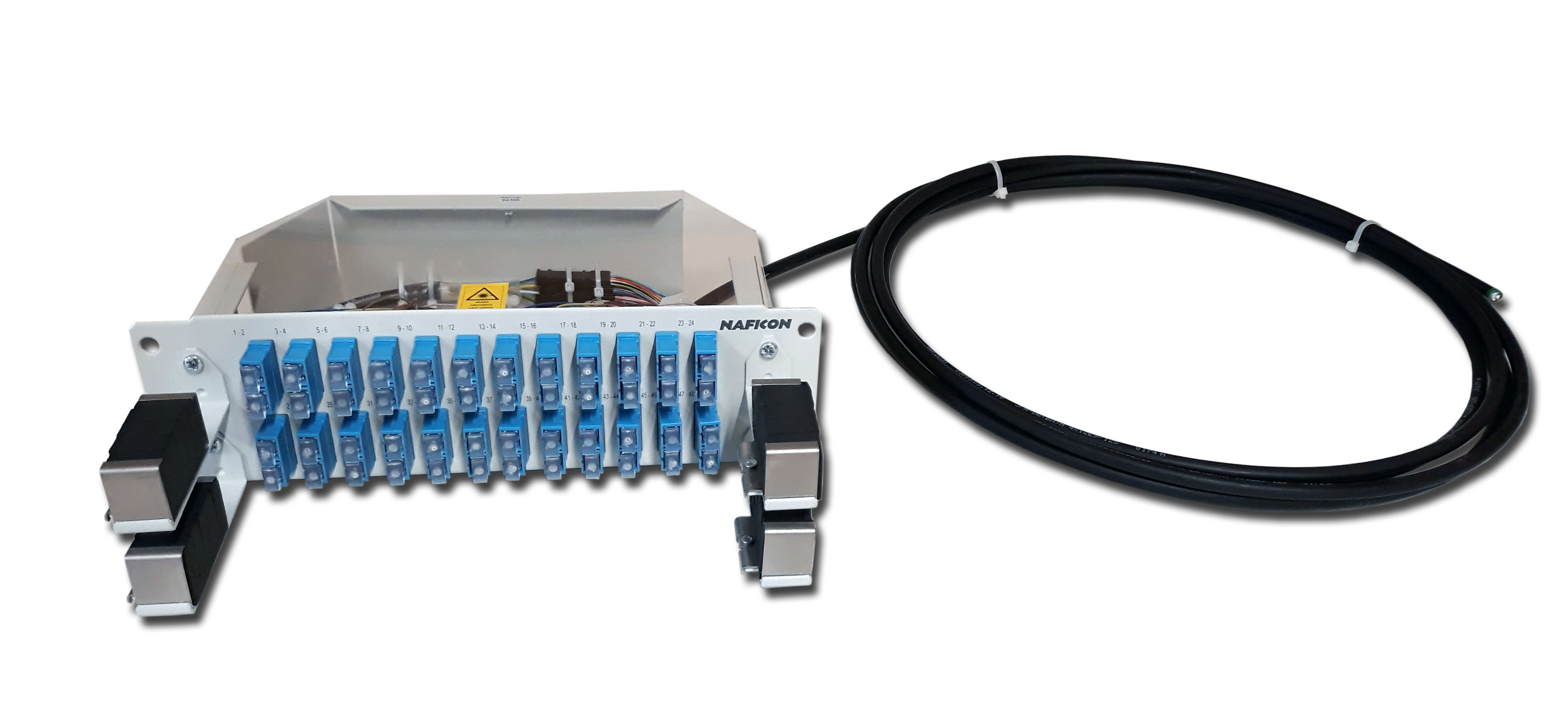 Below are the identification codes for the lengths in stock. Other lengths are also available with a couple of days' notice.


Splitter module
Splitter modules are also available for NAF1000 system, with preinstalled SC-APC or LC-APC splitters.
Below are the identification codes for the splitter modules in stock. For the time being LC-APC modules do not have their own identification codes.
However, the 1000-mechanics have identification codes for terminal modules (päätemoduuli) with LC/APC connectors. The module fits into a frame (Päätekehikko NAF1000 Splitter) which can be directly installed into a NAF1000 cross-connection cabinet.