CWDM​
CWDM (Coarse Wavelength Division Multiplexing) is positioned in WDM technologies between standard WDM and DWDM in terms of the width of the wavelength windows. In DWDM (Dense Wavelength Division Multiplexing), the wavelength windows are narrower and in WDM they are wider than in CWDM. Using several different wavelengths in one and the same fiber is a good way to multiply the transmission capacity of the fiber.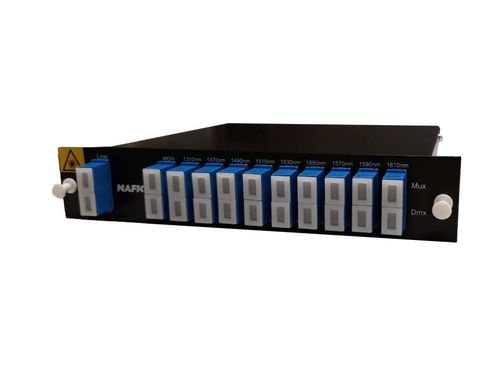 CWDM
In fiber-optic communications, wavelength-division multiplexing (WDM) is a technology which multiplexes several optical carrier signals onto a single optical fiber by using different wavelengths (i.e., colours) of laser light. This technique enables bidirectional communications over one strand of fiber or fiber pair, as well as multiplication of capacity. CWDM enables the use of more channels than regular WDM. The most common CWDM modules are 8 + 1 + monitoring and 4 + 1 + monitoring. Monitoring means that 1–3% of one fiber is used for testing if necessary.
Regularly the window for each channel is 20nm. If there is a need for narrower windows, those can be acquired.
+1 means the channel for 1310nm wavelength, in which the window is usually wider i.e. 40nm. The wavelengths used are according to ITU G.694.2 standard between 1270nm and 1610nm. +2 means that both 1310nm and 1550nm channels are wider.
Technical data can be found via the link.
Module that contains both MUX and DEMUX is called a terminal. The picture bellow gives you an insight. The same module is used for both 5ch and 9ch modules.
A frame for NAF1000 mechanics is also available. It fits one module.
For additional information, please contact us.
Beneath are the identification codes for the CWDM products in stock. Clicking the product code numbers will take you to the product page on the Finnish STK service and clicking the product name will open a picture of the product.