Ready assembled cable means multifiber cable, in which we manufacture connectors on one or both ends. The connectors we offer in these types of cables are as follows: UPC (SC, LC, FC, MU, and ST) and APC (SC, LC, and FC). The connectors may be different on each end. It is also possible to have different connectors on the same end.
The use of ready assembled cables speeds up installation process considerably. This saves installation costs and frees up resources for different locations. The installation of these products does not require specialized training or know-how.
The cables can be both indoor and outdoor cables. Even big and long cables can be ready assembled. Commonly ready assembled cables are made from indoor-/outdoor cables.
Most used cables:
HBBX 12-, 24-, 48- ja 96SML (HBBX stands for thin black indoor-/outdoor cable, SM, 250µm fibers, aka FZOMSU-SD mini)
FZOMSU-SD/FXMSU/FZMSU 12-, 24-, 48-, 96-, ja 192SML (orange indoor-/outdoor cable, SM, 250µm fibers)
FXMMS 2-, 4-, 6- ja 8SMT and corresponding multimode cables (blue (SM) or green (MM), 2mm simplex cables inside according to needs)
flex cables
Direct buried cables
Connector side of the 250µm fibers are coated with 900µm tube
The number of fibers ranges from 2 to 288. Cables can be solely either SM or MM. But it is also possible to have so called hybrid cables, in which there are SM fibers and MM fibers in the same cable..
List of commonly used hybrid cables:
4SML+4OM3L or 4OM1L
8SML+8OM3L or 8OM1L
12SML+12OM3L or 12OM1L
24SML+24OM3L or 24OM1L
The length of ready assembled cable is specified by the customer. Also, the amount of peeling can be agreed according to needs. The peeled fibers are packed inside of a protective tube. The tube can be used in installation to pull the cable.
Ready assembled cables can be manufactured also in a way that one end has 900µm fibers and the other end has 2mm fibers. These kinds of products work exceptionally well when 900µm fibers are preassembled into a panel or other termination box, and the other end goes directly to transceiver or to external connections.
In these products, the gradation of the 2mm fiber connectors can be made precisely, which guarantees extremely neat installations.
Very often, ready assembled cables are installed in our factory at one end into an enclosure, such as 19" panel, NAF1000, ODF 3x8 or 4x6 or LL YJT
When using a product like this another enclosure with adapters is often added to the delivery. Then the package is ready for installation at the site.
Unfortunately, there are not always product numbers for these kinds of products, because they are custom made according to the site. In the table below can be found the identification codes that do exist.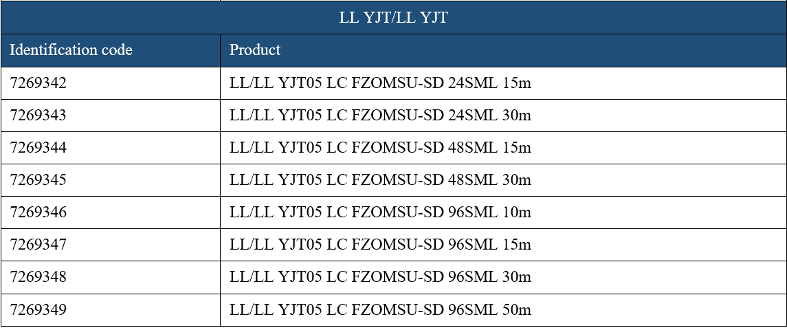 Production time for these products varies between one day to two weeks. Production time depends on the cable type and number of cables.
Here is an instruction how to place an order for these kinds of products:
Panel or enclosure in which one end is installed
The name of the panel or enclosure for the other end if necessary. It will not be installed unless requested
The connectors for each end separated with / sign. If there are no connectors at the other end, then it should be marked with a dash
The wanted type of cable. If the type of cable is unknown, then the number of fibers and the type of fibers should be mentioned
Length
There are a couple of examples below:
PAN 19"/ODF 3X8 SCA/SC FZOMSU-SD 24SML 35m
One end of the ready assembled cable is installed into a 19" panel
The other end is installed at the site into ODF 3x8 enclosure, so the enclosure with right adapters is delivered along with the cable
The connectors installed into 19" panel are SC-APC
The connectors for ODF 3x8 are SC-UPC and are inside a protective tube
The cable is 24 fiber SM cable, it is orange and for indoor-/outdoor use
The length of the cable is 35m
NAF1000 SCA/LC (2mm) HBBX 48SML 40m
One end of the ready assembled cable is installed into a NAF1000 enclosure
There is no need for other enclosure since it is not mentioned
The connectors installed into NAF1000 enclosure are SC-APC
The connectors at the other end are LC-UPC and are made of 2mm fiber. The fibers and connectors are inside a protective tube
The cable is thin black 48-fiber indoor-/outdoor cable
The length of the cable is 40m
FIBER+CAT6 READY ASEMBELED CABLES
Hybrid cables with 4 SM fibers and CAT6 cable have become increasingly popular.
Connectors for these cables are also manufactured in Nauvo. These cables are available in similar fashion like all fiber cables. Connectors for fibers and CAT6 ready made on both ends or just at one end. One end can be installed into an enclosure in our factory.
The products can be manufactured in a fashion that leaves CAT6 connector uninstalled at one or both ends. The length of the cable depends on customer needs. The identification codes can be found in the table below.
​