Modular and Data Center products​
19" LC module
Modular design is a convenient solution when you don't want to acquire preassembled cable with 48 or 96 fibers for 19" panel. Modular structure allows you to complement the panel in four phases according to needs.
Modular structure includes 19" frame and preassembled modules. The cable used in the modules is user-friendly FTMSU cable with small diameter.
The height of the frame is 1U and it fits 4 modules. The modules are installed to the frame from behind, which enables the use of preassembled cables.
One module fits 24 LC connectors, which means the whole frame fits 96 LC connectors. The modules can be equipped with less connectors as well.
With regular modules, the cable is preassembled on both ends. But if there is a difficult inlet, then the other module can be left uninstalled.
Below you can see the identification codes of the modules held in stock.

There is a new version of the frame which is not as deep as the regular version. The new version has its own fitting modules as well. In the modules, the cable is at an angle of 45⁰ relative to the front edge. This saves space and the modules can also easily fit in cross-connection cabinets without the cable being unnecessary bent. The cable can be installed in the module so that the cable goes either left or right. The frame also has holes for wall mounting.
MTP/MPO
When talking about MTP and MPO connectors we need to keep in mind that they are not the same although compatible.
MTP is developed out of MPO, but with better quality. There are many companies manufacturing parts for MPO connectors, but only US Conec manufactures parts for MTP connectors. This means that parts for MPO, for example the boot, housing and ferrules can be manufactured by anyone. And if the connector is called MTP, then all parts are manufactured by US Conec.
There are few advantages with MTP compared to MPO
The housing is detachable, which enables ferrules to be repolished
Floating ferrule improves the connection between couplings
The tolerance for the guide pins in male-connectors is tighter
The spring is focused better, and its compressive force is better
We supply both MTP and MPO products. At this moment we do not manufacture these connectors ourselves. We offer products from our partner Seikoh Giken.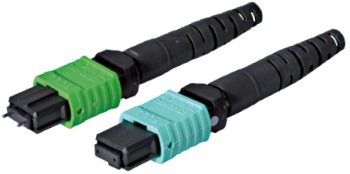 There are two types of MTP/MPO connectors, male and female. In the male connector there are guide pins and in the female connectors corresponding openings. The male connector is used among other things inside panels and in device interfaces. The female connector is commonly used in patch cords and in instrument and trunk cables.
MTP/MPO connectors are available with 8, 12 or 24 fibers. The connector is the same size with all the fiber counts. In connectors, with 8 or 12 fibers, there are 12 places for fibers. When using 8 fibers the 4 middle places remain unused. This 8-fiber connector is mainly used only in multimode products and in 40Gb systems.
In 24-fiber connector the fibers are in two rows. See the difference in the picture below.
12-fiber connector is the most common at the moment. 24-fiber connectors advantage is greater coupling density, which leads to halving the trunk cables needed. The challenges for using 24-fiber connectors is their manufacturing complexity, which raises their price considerably.
The insertion loss for MTP/MPO connectors is typically little higher compared to SC and LC connectors with ceramic ferrules, typically 0,25dB. Return loss is also weaker compared to regular ferrules. Therefore SM MTP/MPO connectors are almost always APC polished, and that enables them to reach the typical value of 55dB for return loss.
Patch cords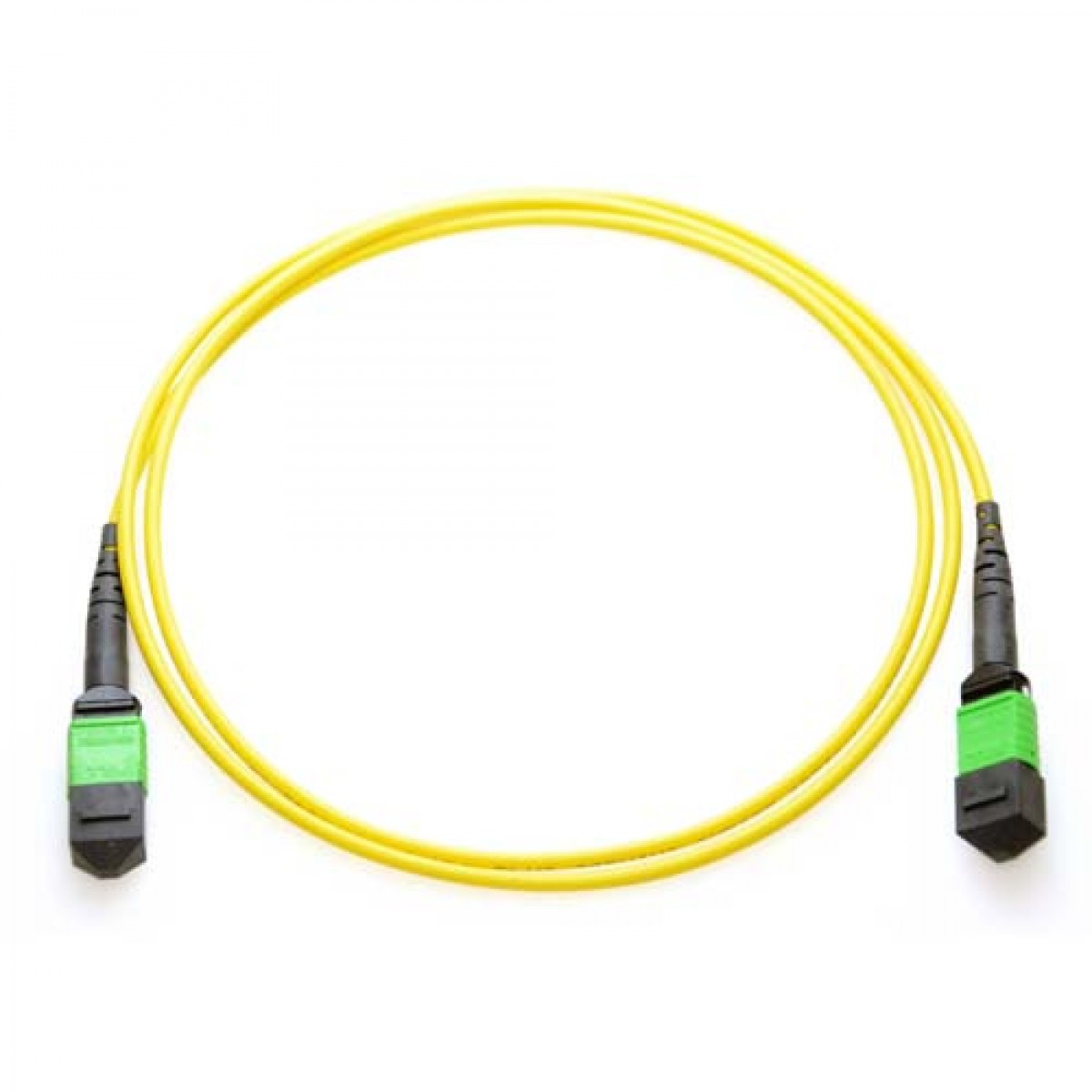 Patch cord are available for all fiber counts (8, 12 and 24). Both ends can be with MTP/MPO connectors or the other end may be with LC or SC connectors.
Trunk cables
Trunk cables are available with 12, 24, 48, 72, 96, 144 and 192 fibers. The length is customizable to needs and the connectors can be at both ends or only at the other end.
Panels and modules
Several different options are available. There are panels, where at back there are slots for 2 to 16 MTP/MPO adapters. The panel in question can be seen below, photographed from behind. In front of the panel there are slots for LC quattro adapters or for MTP/MPO adapters. When using MTP/MPO connectors, 1U panel can reach as many as 384 connections. In this case there are MTP/MPO connectors in front of the panel as well.
HD LC panels are also available, fitting 144 LC connector to a 1U panel.
These HD panels have their own modules.
In a traditional module there are two slots for MTP/MPO connectors at the back and 24 slots for LC connectors in front. Four of these modules can be fitted into 1U panel. Modules can be added when needed.
Inside these modules, there are two short MTP/MPO-LC patch cords fitted inside.
Due to large quantity of different options for modules, we are not able to provide all information here. Please contact us for additional information.
Polarity
It is crucial to now the polarity when using MTP/MPO connectors. There are three types of polarity available (A, B and C). The choosing of adapters also depends on the polarity.
In the brochure below, you can find out what different polarities mean and differ from each other.
​