Naficon Liitin Oy
Lahdentie 7, 21660 Nauvo
Naficon Liitin Oy
Lahdentie 7, 21660 Nauvo

Sivu valmistuu lähipäivinä
We have all the most common adapters in stock, both single mode and multimode. As well as with the most common adapters, you can enquire more rare adapters via us. Like E2000, MU etc.
All the adapters, both SM and MM, are equipped with ceramic alignment and with semi-transparent dust caps. Semi-transparent dust caps enable to check connections with visual fault locater without removing dust caps.
Installing adapters as close to each other as possible in small termination boxes, the adapters need to be flangeless. If You need adapters with flanges, which are also available in stock, you need to mention that when placing an order.
Now also available dustproof adapters with inner shutter mechanism
The range of adapters now include LC/LC duplex and quattro adapters, which are dustproof with inner shutter mechanism. These adapters have passed tests for Arizona test dust.
We have the following dustproof adapters in stock:
7268201, LC/LC SM duplex, blue
7268202, LC/LC SM quattro, blue
APC and multimode adapters are available on request
Manufacturers brochure:
​
Single mode adapters
SC/SC simplex
72 620 38 (Seikoh Giken)
72 689 91 (HJ3W)
SC/SC SM simplex adapter, for SC-UPC connectors
Colour blue
72 647 40 (Seikoh Giken)
72 689 97 (HJ3W)
SCA/SCA SM simplex adapter, for SC-APC connectors
Colour green
SC/SC Duplex
72 620 39 (Seikoh Giken)
72 689 85 (HJ3W)
SC/SC SM duplex adapter, for SC-UPC connectors
Colour blue
72 647 41 (Seikoh Giken)
72 689 95 (HJ3W)
SCA/SCA SM duplex adapter, for SC-APC connectors
Colour green
LC/LC duplex
72 620 40 (Seikoh Giken)
72 689 87 (HJ3W)
LC/LC SM duplex adapter, for LC-UPC connectors
Colour blue
72 647 61 (Seikoh Giken)
72 689 93 (HJ3W)
LCA/LCA SM duplex adapter, for LC-APC connectors
Colour green
LC/LC quattro
72 689 89
LC/LC SM quattro adapter, for LC-UPC connectors
Colour blue
72 689 94
LCA/LCA SM quattro adapter, for LC-APC connectors
Colour green
FC/FC adapteri
72 641 82
FC/FC SM simplex adapter, for FC-APC connectors
Colour metal
Ceramic alignment
Green dust caps
Hybrid adapters
72 641 75
SC/LC SM simplex hybrid adapter
For SC slot
Female-Female
MM hybrid available on request
72 641 76
SC/FC SM simplex hybrid adapter
For SC slot
Female-Female
Multimode adapters
OM1 adapters
SC/SC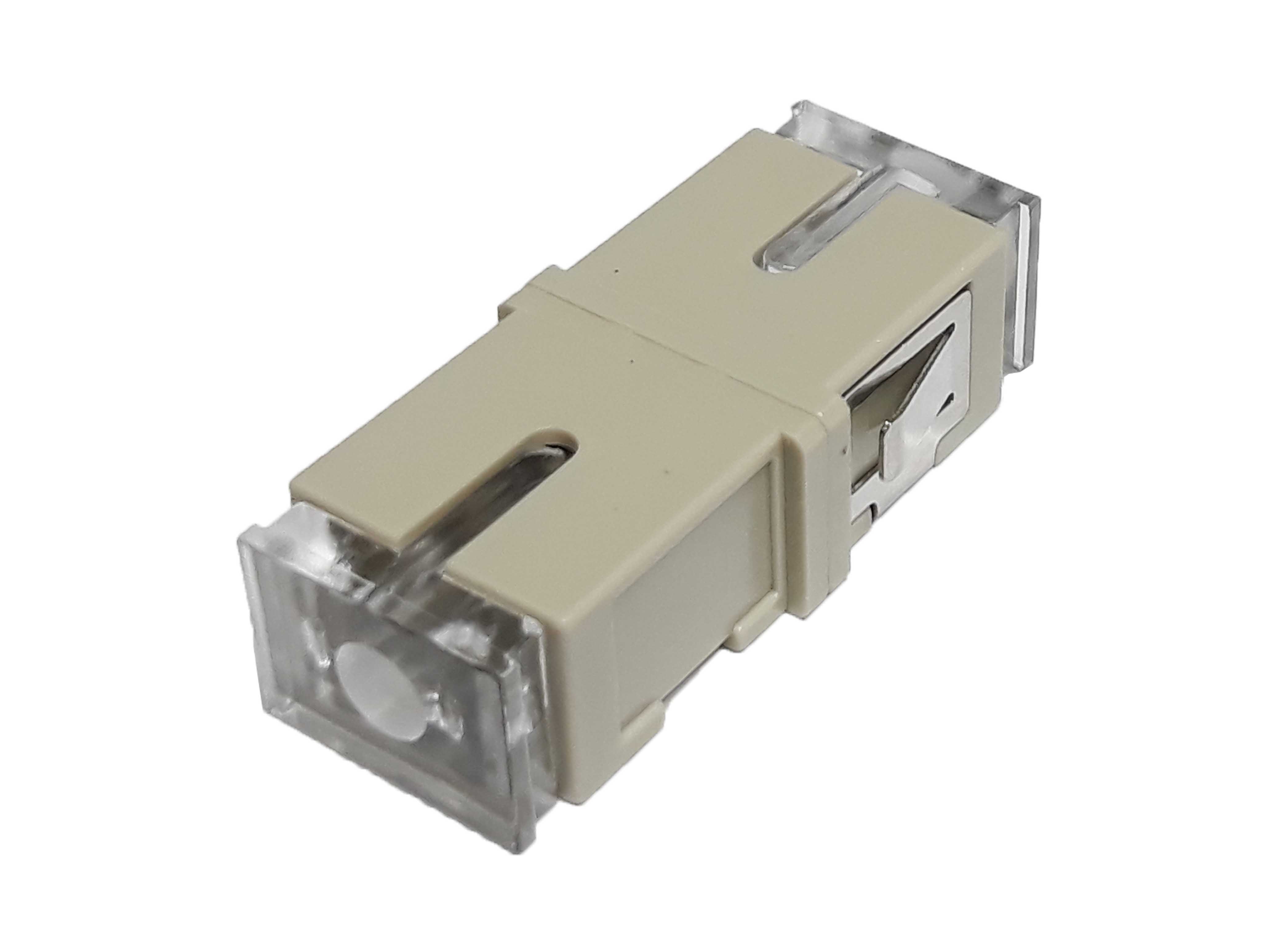 72 623 72
SC/SC multimode (OM1) simplex adapter, for SC-UPC connectors
Colour beige
72 623 73
SC/SC multimode (OM1) duplex adapter, for SC-UPC connectors
Colour beige
LC/LC
72 623 74
LC/LC multimode (OM1) duplex adapter, for LC-UPC connectors
Colour beige
72 689 90
LC/LC multimode (OM1) quattro adapter, for LC-UPC connectors
Colour beige
OM3 adapters
SC/SC
72 690 08
SC/SC multimode (OM3) simplex adapter, for SC-UPC connectors
Colour aqua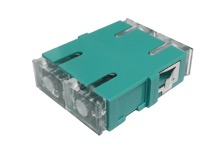 72 690 09
SC/SC multimode (OM3) duplex adapter, for SC-UPC connectors
Colour aqua
LC/LC
72 690 06
LC/LC multimode (OM3) duplex adapter, for LC-UPC connectors
Colour aqua
72 690 07
LC/LC multimode (OM3) quattro adapter, for LC-UPC connectors
Colour aqua
OM4 adapters
SC/SC
72 690 02
SC/SC multimode (OM4) simplex adapter, for SC-UPC connectors
Colour magenta
72 690 03
SC/SC multimode (OM4) duplex adapter, for SC-UPC connectors
Colour magenta
LC/LC
72 690 00
LC/LC multimode (OM4) duplex adapter, for LC-UPC connectors
Colour magenta
72 690 01
LC/LC multimode (OM4) quattro adapter, for LC-UPC connectors
Colour magenta